CSE Hosts 3rd Annual Smartphonia Mania: North American Bancard Pay Anywhere 48-Hour Mobile Hackaton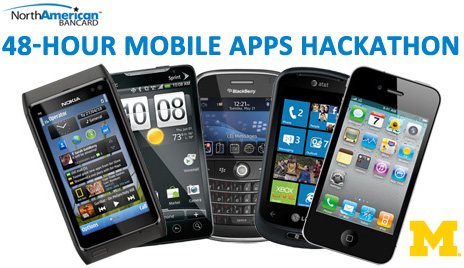 CSE is hosting its third annual 48-hour mobile device app creation contest, during which University of Michigan students will be able to create and present their mobile app projects in a fun and creative setting. The North American Bancard Pay Anywhere 48-Hour Hackathon takes place from Friday, Oct. 22 – Sunday, Oct. 24 in Design Lab 1, which is located in the Duderstadt Center on U-M's North Campus.
Hackathon Details:

Build a running app for ANY mobile platform – iOS, Android, Windows Phone 7, Blackberry, Symbian... one that your peers think is the cat's meow!


Judging will be done by the participants themselves and those attending the hackathon closing dinner on the third.


Kickoff Dinner: Friday, Oct. 22 @ 5:30pm


Mobatech @ Mobiata Dinner: Saturday, Oct 23 @ 5:30pm (optional interim design review and energy booster!)


Closing Dinner, Demos, Judging, and Prizes: Sunday, Oct. 24 @5:30pm


All meetings will be held in Design Lab 1, in the Duderstadt Center.

All U-M students are invited to participate, and students are encouraged to work as teams. Come to learn something new and have fun!

"I learned more in those 48 hours about creating software than I did in all my courses."
-- Student participant, 2009 Smartphonia mania






The Hackathon is sponsored by North American Bancard, Inc. Additional support from U-M's Center for Entrepreneurship, Mobiata, LLC, Mobatech, LLC, the Digital Media Commons, Google, Inc., Apple, Inc., and the U-M CSE Division.