U-M Students Build Amazing Apps in 48 Hours at 3rd Smartphonia Mania: North American Bancard Pay Anywhere 48-Hour Mobile Hackathon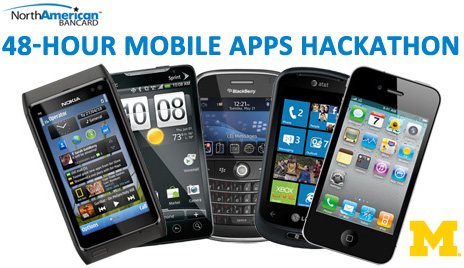 From Friday, Oct. 22 through Sunday, Oct 24, a collection of U-M students with an interest in mobile device programming came together for the third 48-hour Smartphonia Mania Hackathon. Orchestrated by Prof. Elliot Soloway, the event is designed to give the students a creative and supportive coworking environment and a 48-hour uninterrupted timeframe so that they can focus at a deep level on their projects and the challenges they present.
The Hackathon was sponsored by North American Bancard, Inc. Additional support from U-M's Center for Entrepreneurship, Mobiata LLC, Mobatech LLC, the Digital Media Commons, Google Inc., Apple Inc., and the U-M CSE Division.
Over the weekend, student teams worked around the clock in Design Lab 1 in the Duderstadt Center to create projects for the iOS and Android platforms. At the end of the programming period, they demoed an impressive array of apps.
Teams and Projects
Here are all the applications that were developed and the teams of developers:
Arbor Park (Android) Screenshot 1 Screenshot 2
Arbor Park aims to solve the problem of finding parking lots on the University of Michigan campus. It provides an easy, familiar interface for finding parking lots based on what parking permit you have, what time of day, and other things. We hope to expand this be more of a platform and allow people to add lots and information throughout the rest of the semester.

Team: Adam Kelly, Yumin Pan, Dhinesh Muthu



Awesome Repeater (iOS) Screen shot
Awesome Repeater didn't make it to a demoable stage over the weekend; however, significant progress was made in developing an application that could repeat a certain section of any audio clip stored on an iPhone/iPod. I've attached a screenshot of the core view of our application, and hopefully next time we can get a more complete product. It was great fun, and we definitely learned a lot.

Team: Dylan Harris, David Joseph, and Eric Thompson



Claim Locker (iOS) Screenshot 1 Screenshot 2 Screenshot 3
Claim Locker is a digital interface ultimately intended to replace the paperwork associated with filing auto insurance claims. It also provides the facility to exchange contact information with the other party quickly and easily, to make the entire process simpler. The platform that this system utilizes also provides a web interface to view the submitted data. This application is merely an example of the digitalization that the platform we developed is capable of; such a system can be expanded to such paper-laden tasks as filing health insurance claims and submitting police reports.

Team: Jason Berlinsky, Jack Wink



Finger Fight (Android) Screenshot 1 Screenshot 2
Fighting game where your finger is the fighter, wherever you last touched becomes your "finger print" or hit box. The app is simply one stage where you try to defeat the boss. You have one attack: slide your finger to shoot fireballs.

Team: Brian Ruff



Match Moves (iOS) Screenshot 1 Screenshot 2
A two player game for iPad that promotes learning through making associations. Flick a matching piece into your goal to increase your points and your power! Fill your power bar to gain special abilities. Be careful though, letting wrong pieces into your goal decreases your power! Currently supports shape matching and basic math, and is being expanded to include language learning, science and more advanced math.

Team: Alex Kuhn, Brenna McNally



Mobile MPrints (1st place) (Android) Screenshot 1 Screenshot 2 Screenshot 3
Mobile MPrints is a native Android application designed to provide users the ability to print to any University of Michigan printer from their mobile device. It is designed to hook into the Android OS such that any PDF, Word, Excel, Powerpoint, or text file encountered during the user experience can sent directly to any university printer. No longer will students have to run to a computer before classes to print off their homework assignments or lecture slides as they can do this on their way to class and pick up their print jobs beforehand.

Team: Nader Jawad



SMS Translator (Android) Screenshot 1 Screenshot 2
This app solves the problem of translating SMS messages that are received in a different language from the native language of the device. Incoming messages are automatically read and analyzed to see what language they are in. They are then translated into the native language of the device if the language is different. The translated message is added as a new message to the inbox, in addition to the original message. Aside from this receiving service in the app, there is a translation service that will translate text into any language and then can send it out as a SMS message if desired.

Team: Mike Brown, Tim Guenthner



SolveCrowd (2nd place) (iOS) Screenshot 1 Screenshot 2
SolveCrowd is a mobile application that helps you find classmates on campus who are working on the same thing you are. The application displays a real-time stream of students working on assignments throughout campus; the user is able to filter the stream to find peers, and a notification system alerts users to groups forming for a class, so they can jump in too. SolveCrowd is the social solution to the homework problem.

Team: Eric Anderle, Michael Groshans, Alex Karpowitsch



Spubble (iOS) Screenshot 1 Screenshot 2 Screenshot 3
Spubble is a soundboard application for the iPhone aimed at assisting the autistic or others unable to express themselves verbally. It includes as many as 15 categories such as: Food, places, prepositions, alphabet, numbers and adjectives. The user can tap the icons, designed specifically for Spubble, to hear the word they represent, or he/she can drag icons into a speech bubble (or "spubble") to the top of the screen to form complete phrases.

Team: Jake Steinerman, Cheng Chen, Varun Maker, James Thomas



Visualist (Android) Screenshot
Never forget to buy something at the grocery store again! Incrementally add items to your list using the camera and remove items with a simple screen gesture.

Team: Brad McManus, Maureen Maier, Becky Malinowski


Hackathon Photos
Below are photos from the end of the event, during which teams presented to the group. To view or download larger photos, just click on the thumbnail image of interest.
Browse the archives from past Smartphonia Mania Hackathons: Winter 2009 Fall 2009
---
Posted: October 26, 2010