Intellectual Property Webcast
Wednesday, May 29 at 4pm EDT


Patent attorney Thomas Lewry and Prof. Mohammed Islam will present a lecture on trademarks, copyrights, and patents. They will explore topics such as what it takes to get a trademark, copyright or patent; how the idea of intellectual property is changing in this digital age; and ways you can protect your intellectual property.

Advancing secure communications with a better single-photon emitter


A silicon-based single-photon emitter developed by Prof. Pallab Bhattacharya and his group is simpler and more efficient than those currently available, and can be made using traditional semiconductor processing techniques.

Prof. Mona Jarrahi and her group developed a laser-powered terahertz source that will allow for deeper imaging of tissue as well as more sensitive sensing of drugs and explosives than is currently possible.

Meet our UG students

We recently sat down with just a few of our students who received end-of-the-year awards or who were recommended by faculty. Not surprisingly, these students make us proud to be a wolverine! Read and/or watch the videos about each student to learn more.


We've been keeping you up-to-date on one of our youngest interdisciplinary teams, and now the long-awaited race is done. In their second race ever, they came in 4th overall, took 2nd place in Chrysler Innovations Award, and 3rd in endurance. Read about some of the highs and lows from the students who were there.

Faculty Awards Roundup

Al Hero - Notable Paper Award at the 16th International Conference on Artificial Intelligence and Statistics (AISTATS)

Dennis Sylvester - Faculty Recognition Award from the University of Michigan

Silvio Savarese - J. James R. Croes Medal from the American Society of Civil Engineers (ASCE)

Congratulations new EECS Alumni!
Richard Costolo (CEO of Twitter, U-M alumnus, and former standup comedian) was the invited speaker at the U-M commencement. At the
engineering commencement,
Dean Munson gave graduates their choice of a handshake, high five, chest bump, or other congratulatory gesture. EECS graduates are announced at 1:14:00 on the video.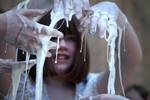 Xplore Engineering Alumni
Summer Camp
Friday, August 9, 9am-5pm
Xplore Engineering is a fun-filled exploration of Michigan Engineering for 5th-8th grade children. Attend 3 experiential, hands-on workshops, and tour the Big House and Crisler Arena. Sponsored by MConneX.

All Upcoming ECE Events
All ECE News
Subscribe
to receive a simple text email announcement every Friday morning of recent news and upcoming seminars and events.

Send your latest news, accomplishments and address changes directly to Catharine June, or complete the online form.
University of Michigan
Electrical and Computer Engineering
1301 Beal Avenue, Ann Arbor, MI 48109-2122
Feedback and submissions:
Catharine June: cmsj@umich.edu

Visit us on the web: ece.umich.edu
© 2013, The Regents of the University of Michigan - Non-discrimination Policy