Welcome new students



The College of Engineering saw a record number of applications (more than 11,000) for the undergraduate program at Michigan, leading to one of the largest, most diverse, and best prepared classes ever. We'll welcome them into ECE when it comes time to declare. Meanwhile, we are welcoming more than 200 new graduate students to ECE. Go Blue!

Memristors: research + commercialization


Prof. Wei Lu is leading a $5M research project to build alternative computer hardware that could process images and video 1,000 times faster with 10,000 times less power than today's systems. Based on the same memristor technology, his company, Crossbar, Inc. is getting close to introducing RRAM into the market – which could disrupt the memory market.

Lab Safety: don't let this happen to you!

ECE created a series of 4 brief videos to emphasize the importance of specific aspects of lab safety. The videos are meant to be humorous – they do not reflect anything that's actually happened in our labs! Please feel free to share them.

ECE and the automobile - with video

Prof. Jim Freudenberg has been named the new director of the U-M master's program in Automotive Engineering. One of his goals is to educate our electrical and engineering students about the ever-expanding opportunities that await them in this field.

SHOUT: censorship-resistant microblogging - with video



SHOUT is an app developed by EECS undergraduate and graduate students that provides a way to communicate with others in close proximity, rather than those on a social network. It works even when there is no network infrastructure, providing an alternative to a centralized service like Twitter than can be disabled or subject to censorship.
October 4: Alumni talks, luncheon, and North Campus activities.
October 5: CoE Tailgate and kickoff vs. Minnesota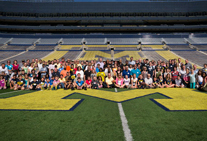 Alumni had a blast with their children and grandchilren Aug. 9 when they returned to Michigan for a day of engineering exploration. More info and pictures
University of Michigan
Electrical and Computer Engineering
1301 Beal Avenue, Ann Arbor, MI 48109-2122
Feedback and submissions:
Catharine June: cmsj@umich.edu

Visit us on the web: ece.umich.edu
© 2013, The Regents of the University of Michigan - Non-discrimination Policy