Shining light through non-transparent media
Curtis Jin, a doctoral candidate working with Prof. Raj Nadakuditi, is part of a research team that has developed theory and algorithms that can mitigate or even overcome loss in transmission power due to the multiple scattering of light in non-transparent (ie, scattering) media.

Celebrating a Year of Innovative Research
The first annual MCubed Symposium served as a showcase for the 200+ projects that came into being thanks to the MCubed initiative, which is now open to the public. In ECE, the program enabled research to progress to the point that our faculty are applying for major grants to continue the work, submitting papers to conferences and journals, and founding new companies.

Fessler Receives Medical Imaging Award
Prof. Jeff Fessler received the 2013 IEEE Edward J. Hoffman Medical Imaging Scientist Award, "For contributions to the theory and application of statistical image reconstruction methods in nuclear medicine, x-ray CT and magnetic resonance imaging (MRI)." His group's research has led to improved medical images in hospitals.

Najafi Receives IEEE Sensors Award
Khalil Najafi, Schlumberger Professor of Engineering and Chair of Electrical & Computer Engineering, received the 2013 IEEE Sensors Technical Field Award, "For leadership in microsystem technologies and seminal contributions to inertial sensors and hermetic wafer-level packaging."




IEEE Named the Best Branch in SE Michigan
The University of Michigan student chapter of IEEE was named best IEEE student branch in Southeastern Michigan for 2012-2013. Matt Kneiser and Alex Hakkola, the current president and vice president of IEEE at Michigan, accepted the award on behalf of the student chapter at the IEEE Southeast Michigan Section (SEM) Fall Conference.
Students taking the course, Electricity Networks and Markets, recently took a field trip to DTE Energy Company's first company-owned wind farm, called Echo. Students left with a deeper understanding of the reality and challenges of alternative energy.


Update Contact Info
(and send your news)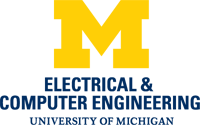 University of Michigan
College of Engineering
Electrical and Computer Engineering
1301 Beal Avenue, Ann Arbor, MI 48109-2122
Feedback and submissions:
Catharine June: cmsj@umich.edu

Visit us on the web: ece.umich.edu
© 2013. The University of Michigan is a non-discriminatory, affirmative action employer.