Colored Solar Cells for Energy + Beauty

Colorful, see-through solar cells could one day be used to make stained-glass windows, decorations and even shades that turn the sun's energy into electricity.
Press Release Video

Photon Glue for Better Lighting + Solar Cells

Light can act as a photon glue that binds together the quantum mechanical properties of two vastly different materials. The effect could harness the most useful characteristics from each material for high-efficiency lighting and hybrid solar cells.

Biochips for Better Cancer Therapy

This biochip simultaneously tests the interaction of the drug, light, and oxygen in photodynamic therapy, generating results in a fraction of the time of current testing practices.



Why Quantum Computers? (video)

Prof. Duncan Steel, a leading expert in quantum computer technology, describes how these computers work, and what their implications are for cyber security.


Great Undergraduate Teaching

Professor Jamie Phillips has been named an Arthur F. Thurnau Professor for demonstrably impacting the intellectual development and lives of undergraduate students.



Plasma Microdischarges in Printers: Best Oral Paper

Research into the glow-like atmospheric microdischarges created under special conditions in laser printers may ultimately improve large-scale industrial processes and other applications.




Ambassador for Optics

Elizabeth Cloos wants to understand how a new interaction between light and matter can generate electricity. But even when she's not in the lab, she finds plenty to keep herself busy, often promoting optics, science, and technology.

---
Invited speaker Prof. April Brown will talk about Chemical-electronic coupling and InAs 2D electron gas
Sign up for the Webinar
June 26-27, 2014
For alumni and their 4th-7th grade children. 18 workshops offered.

Listen to Prof. Fawwaz Ulaby's Henry Russel Lecture, with topics ranging from building the first radar in space to making textbooks more affordable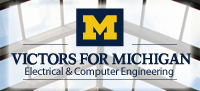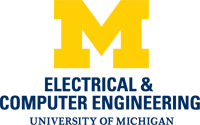 University of Michigan
College of Engineering
Electrical and Computer Engineering
1301 Beal Avenue, Ann Arbor, MI 48109-2122
Feedback and submissions:
Catharine June: cmsj@umich.edu

Visit us on the web: ece.umich.edu
© 2014. The University of Michigan is a non-discriminatory, affirmative action employer.