Making education accessible in rural India
Poverty works as a vicious cycle – a lack of resources keeps destitute communities from necessities like education, which keeps them from work and the access to better resources it can bring.

CS student Divyansh Sharma is working to help combat that with his non-profit startup EduTech Academy. Through EduTech, he and his team of ten developers are working to deliver free video courses directly to people in need of basic education. The company's mission is to provide "access to knowledge regardless of their social strata, race, color, or religion."

EduTech is a massive open online course (MOOC) that aims to provide basic skills training for modern jobs to the underprivileged populations of India. The courses are offered entirely in Hindi, and are free of charge. The platform is geared toward the rural population, representing 70% of the country, who lack proper access to vital educational resources.

Initially, Sharma took on the task of designing the courses himself. As a high school student, he set out to identify the key needs of 100 different companies in the Delhi area – what, at the most basic level, were the abilities they expected of all of their workers? Using the survey data, he identified several office tools and language skills needed to be able to enter the job market, and designed an introductory set of 50 videos in Hindi.

"I designed the curriculum, which included web designing, computer programming, Photoshop – basically skills that can get you employed and can help you sustain yourself," Sharma says.

Now, the resources available on the website range from basics in Microsoft Office to internet fundamentals and the English language. The videos include a test series and projects to help monitor progress and check comprehension.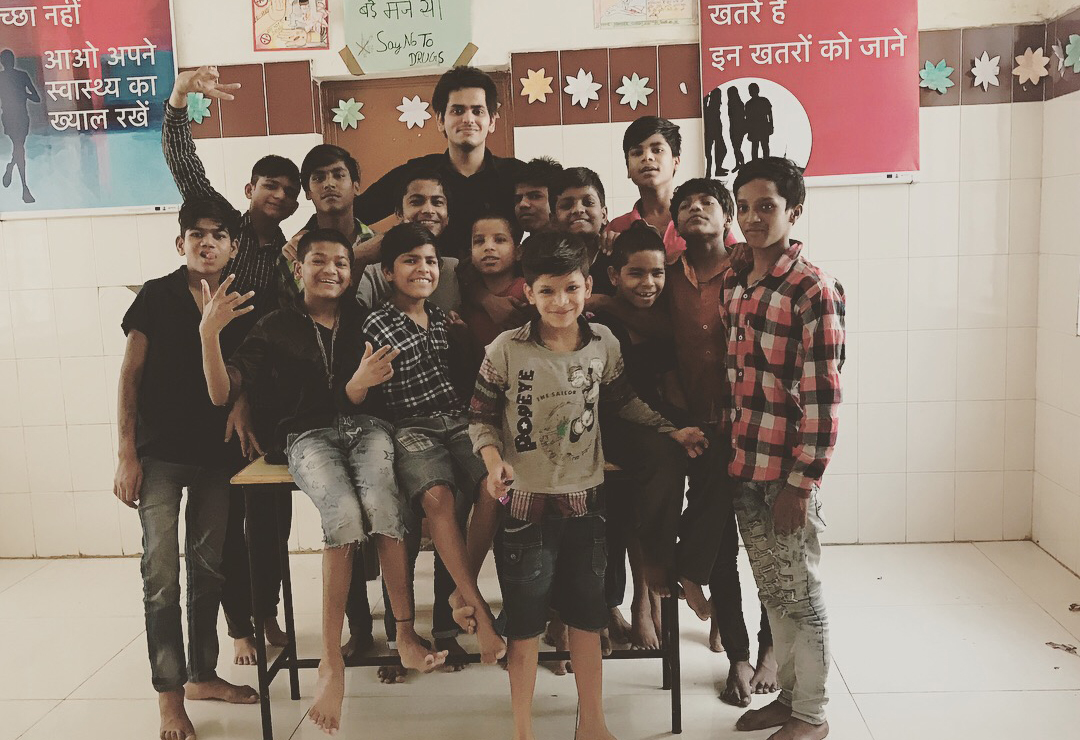 Divyansh Sharma, back, hosts an EduTech workshop conducted for drug addicted children in a rural part of Delhi.
The first challenge Sharma faced was delivering these courses to communities that needed them – most rural populations in India do not have easy internet access. Again, he turned to established institutions to help. This time, he reached out to several non-profits and non-government organizations (NGOs) that organized events and food distribution in impoverished areas. They took his pitch, and began offering in-person workshops presenting EduTech's courses.

By the end of 2015, the platform had 2100 users, and was featured in the leading national newspaper Times of India.

It was then that Sharma had to leave the country for school, and he didn't want to sacrifice EduTech's growth for the move. So, he assembled a team of ten volunteers from among his former schoolmates, who have helped to run the program and completely redesign the platform.

Sharma only sees more growth and progress for EduTech on the horizon, and he's taking advantage of U-M resources to help make it happen. In 2017, Sharma was selected as one of the top 20 entrepreneurs on campus by the Centre for Entrepreneurship as a part of the 2017 Entrepreneurs Leader Program cohort. This program puts students face-to-face with experienced entrepreneurs for hands-on training and networking, as well as a paid summer internship at a growing startup. For his final project, he was even able to tie in EduTech directly by producing a video course on entrepreneurship for the platform.

Sharma's internship this summer is at Ruist, a growing enterprise software company in the Bay Area looking to make customer service experience faster, cheaper, and better. While he's there, Sharma is also taking advantage of an 8VC fellowship – the only student from Michigan to earn this award. 8VC is a venture capital firm and their program's weekly events give students access to some of the top entrepreneurs in Silicon Valley, like Peter Thiel and Joe Lonsdale.

Through these programs and more, Sharma is hoping to return to EduTech well-equipped to take it to the next level – as well as any future endeavors that may arise.

"Right now I'm just trying to learn as much as I can from everyone around me," he says. "I cherish this experience, which has been instrumental in teaching me about building an organisation from scratch, assembling and leading a team, and setting up a technical infrastructure."
---
Posted: July 23, 2018