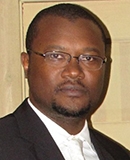 N'Gom, Moussa
Assistant Research Scientist
Division: ECE
Address: 3111 ERB1
Email: mngom @ umich.edu
Phone: (734) 936-1167
Research Interests: Optics and Photonics; light matter interaction, computational optics, Wavefront shaping in complex media, ultrafast optics, plasmonics. Current research: Light manipulation through turbid media for improved imaging and light delivery through biological tissues. Wavefront shaping to control modes in optical fibers to compensate for modal dispersion and increase data rates in multimode fibers.

Norris, Theodore B.
Gerard A. Mourou Professor of Electrical Engineering and Computer Science; Director, Center for Photonic and Multiscale Nanomaterials (C-PHOM)
Professor, Electrical Engineering and Computer Science
Professor (courtesy), Applied Physics
Division: ECE
Address: 6117 ERB I
Email: tnorris @ umich.edu
Phone: (734) 764-9269
Research Interests: Research interests include application of femtosecond optical techniques to the physics of semiconductor nanostructures, in developing new ultrafast optical and optoelectronic measurement techniques, THz generation and measurement, plasmonics in nanostructures, and novel methods for biological imaging and in vivo sensing.