U-M Students Build Numerous Apps in 48 Hours at 4th U-M 48-Hour Mobile Apps Hackathon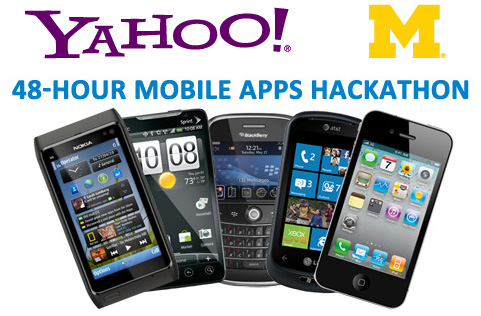 From Friday, Feb. 4 through Sunday, Feb. 6, over 40 U-M students participated in the fourth U-M 48-Hour Mobile Apps Hackathon. Led by Prof. Elliot Soloway, the event is designed to give students a creative and supportive coworking environment and a 48-hour uninterrupted timeframe so that they can focus at a deep level on their projects and the challenges they present.
The 4th Hackathon was sponsored by Yahoo!, with additional support from Computer Science and Engineering, the Center for Entrepreneurship, Mobiata, LLC, Mobatech, LLC, the Digital Media Commons, Google, Inc., Apple, Inc., Microsoft, and North American Bancard.
Over the weekend, student teams worked around the clock in Design Lab 1 in the Duderstadt Center to create projects for the iOS and Android platforms. At the end of the programming period, they demoed an impressive array of apps.
Projects and Teams
Here are the apps that were developed and the teams who developed them:
Developing Commerce (Android)
Screenshot 1 Screenshot 2 Screenshot 3
Developing Commerce is a mobile-based Android platform that creates product pricing transparencies for farmers, merchants, and other participants in developing economies. This application is similar to a streamlined mobile Craigslist: you are able to find nearby products to buy, or list your own inventory for sale. Users have the ability to search for a product they wish to buy or sell. All relevant listings will appear based on two main factors - price, and location. Locality information is provided through the geotagging of all listings. Each user will have a profile which includes a rating system similar to Amazon's to ensure that customers are dealing with trusted sellers.

Team: The Digital Divide (Akriti Dokania, Thomas Mathew, Mihnea Munteanu, Anthony Menard)


enRoute: The Social Commute (Android)
Screenshot 1 Screenshot 2 Screenshot 3 Screenshot 4
Existing applications like Google Latitude, Foursquare and Glympse allow users to share their location with friends (sometimes in real-time), but they do not allow those friends to request the location of the application user. enRoute solves this problem with an Android client and website that allow a user to go online and request the location of a friend. That friend then receives a push-notification on their Android device and has the option of sharing their location or not. If they accept, the website instantly updates with a streaming location of the other user's mobile device. We feel this is very compelling for organizing group meetings, finding your friends when going out at night and for people to request the status of commuters on their way home.

Team: Mike Kelley, InYong Chung, Karen Rockwood


foodNOMster (Android)
Screenshot 1 Screenshot 2 Screenshot 3 Screenshot 4
foodNOMster is a free food app that helps users find free food around campus. When users find free food, they can report it so everyone else can grab some, too.




Team: Jason Long


Free Fall Challenge (iOS)
Screenshot 1 Screenshot 2 Screenshot 3 Screenshot 4
The Free Fall Challenge is a new novel twist on the typical high score game. You receive a score by tossing your device into the air and catching it. The longer the hang time and higher the toss the better the score! Compete against your friends to get a high score and see how you rank among the daredevils of the world.

Team: Jeff Pape


JezzBall (Android)
Screenshot 1 Screenshot 2
JezzBall is an application that takes real-time, multiplayer gaming to the Android platform. Players compete to block off portions of the game field while dodging enemy players. Controlling your player is done using the phone's built-in accelerometer, so players move simply by tilting the phone. Using a novel method of connecting each other's phones, the two players compete on the same game board in real-time.

Team: William Price, Tianyi Liu, Chazz Malott, Andrew Robinson, Jake Schwartz, Jack Wink


funnyPics (iOS)
Screenshot 1 Screenshot 2 Screenshot 3
funnyPics is an entertainment app where one can browse images with funny captions. The app lets users create funny and witty comments on images. These comments are displayed on little thought bubbles on the pics. If you find an interesting image you can add to your favorite list so as to view them later. The app also lets you view all the comments on a single image.

Team: Vamshi Polam, Michael Varano


Life Organizer (Android)
Photo 1 Photo 2
This is the app for procrastinators, overachievers, and everyone in between. You enter your classes, sleep schedule, and any other constraints. Then, as you get homework, projects, and other assignments, you drop them into the app and let it plan out your work schedule. Tell it how much time you need and it will make it fit! (Project not quite complete but will be!)

Team: Matthew Greenbaum, Jacob Carless


Lumin (iOS)
Screenshot 1 Screenshot 2
This game is based on an ancient Chinese strategic game originally played with coins and board. We modify the game and designed 50 levels with different difficulties and tricks.

Team: Peter Lu, Fu Yu, Yuxing Luo, Lingna Cai, Lu Tian, Shuyu Wang, Kuo Sun, Shao Wang, Yixuan Chen, Jassy Li



Notice Me (Android)
Screenshot 1 Screenshot 2 Screenshot 3
This app helps people to make a new social network connections while waiting for a bus, elevator, or even in class. "Notice M"' app functions: 1. set my status, interests, search interval to let people know! 2. detects all Bluetooth signals around me and update it to server to match your common interest 3. find the common interest among people around me 4. show on your map
This app will be an ice breaker of communication.

Team: Hyeon Joo



OnDeck (Android)
Screenshot 1 Screenshot 2 Screenshot 3
OnDeck is an Android music player application that integrates streaming music from YouTube with the user's local music library to create playlists seamlessly.

Team: Dane Hillard, Tabish Javed, Nader Jawad



Paint With Me (iOS)
Screenshot 1 Screenshot 2
Paint With Me is a collaborative painting tool for iPad. It creates a unique and instantaneous drawing experience with other iPad users across the internet. It's still in a very early form; hopefully publishing to the App Store soon!

Team: Alex Haefner, David Wilemski, Brian Kendall


Hackathon Photos
Below are photos from the end of the event, during which teams presented to the group. To view or download larger photos, just click on the thumbnail image of interest.
Browse the archives from past U-M 48-Hour Mobile Apps Hackathons:
Winter 2009 Fall 2009 Fall 2010
---
Posted: February 8, 2011