U-M Students Build Apps in 48 Hours at 6th U-M 48-Hour Mobile Apps Hackathon
From Friday, Sept. 28 through Sunday, Sept. 30, about 60 U-M students participated in the sixth U-M 48-Hour Mobile Apps Hackathon. Led by Prof. Elliot Soloway, the event is designed to give students a creative and supportive coworking environment and a 48-hour uninterrupted timeframe so that they can focus at a deep level on their projects and the challenges they present. Not to mention being catered to with "food and drinks provided on a near-continuous basis"!
Over the weekend, student teams worked around the clock in Design Lab 1 in the Duderstadt Center to create projects for the iOS and Android platforms, with some camping int he lab and crashing in sleeping bags. At the end of the programming period, 35 of the students demoed an impressive array of apps.
The hackathon was sponsored by Walmart, with additional support from CSE, the Center for Entrepreneurship, the Digital Media Commons, The College of Engineering, Apple, and Google.
Projects and Teams
Here are the apps that were completed and the teams who developed them:
Bar Buzz (iOS)
Screenshot 1 Screenshot 2 Screenshot 3
At Michigan there are a lot of bars, and sometimes it's tough to decide where to go. Bar Buzz helps you decide where to go by providing a platform to talk about each bar and give estimates of the line.

Team: Tarrence Van As, Andrew Drozdov, Zack Ulrich





Feed the Squirrel! (Android)
Screenshot 1
This is a physics-based puzzle game in which the player attempts to help the squirrel reach the acorn. To help acheive the goal, the player has a choice of three different items: a wooden block, a rubber block, and a speed booster. The goal is acheived when the squirrel reaches his acorn.

Team: Cameron Herringshaw, Shuheng Huang, Jackson Jessup, Norrathep Rattanavipanon, Saharat Rodjanamongkol, David Zilli



Graffito (iOS)
Screenshot 1
Everyone loves to draw! Now with Graffito, multiple people can draw simultaneously, live, on the same screen, from anywhere in the world. Using a centralized database hosted on our server, anyone using the app is constantly sending and receiving pixel data to draw together in real time.

Team: Nick Ruff, Chris Ruehs, Lindsey Winslow



iGame 13 (iOS)
Screenshot 1 Screenshot 2 Screenshot 3
his app aims to bring card game 13 to iPhones so you can play anywhere and anytime. Currently, this app works over bluetooth, so you still need everyone to be together to play this game. Later, we are trying to include Game Center to this game so you can play with anyone anywhere in the world. 

Team: Nicholas Otto, David Quesada, Eric Riedel, Gurminder Deep Singh



iVision (iOS)
Screenshot 1 Screenshot 2 Screenshot 3
Millions of people around of the world, including 25 million Americans, report having blurry vision but do not have affordable access to optical care. iVision allows anyone with a smartphone access to a quick and reliable vision test. The app administers a logMAR style eye exam and produces a score to inform the user how close their vision is to 20/20. The app automatically detects the distance between the person and the phone and continuously adjusts the size of the text for more consistent and accurate results. We also use swipe gestures and voice commands as inputs.

Team: Omar Abduljabar, Rolf Bates, Andrew Copp, James McNulty, Vijairam Parasuraman, Ahmed Saleh



Kitten in a Cup (Android)
Screenshot 1
This is a strangely addicting physics-based game for Android. The only objective is to launch a kitten into a cup.

Team: Alex Berman, Michael Christen, Matthew Ko






Noteable (iOS)
Screenshot 1 Screenshot 2 Screenshot 3
Noteable is an app that uses a modified version of the OpenOMR engine to analyze sheet music and play it back for the user. Input can either be in the form of uploaded .png, .jpg, and .bmp files, or they can be pictures taken directly by the user. Currently, the recognization algorithm is a bit shaky, but useable with a high amount of accuracy for uploaded images, and decent accuracy for user taken images.

Team: Ken Lee, Diyu Liang, Tianyi Liu, Dylan Nguyen



Tag (iOS)
Screenshot 1 Screenshot 2
Didn't you love playing Tag as a Kid?  Yeah? Of Course! Welcome to Tag!, the smartphone game of tag.  By using the Bump API, we can smash your phone into your friends in order to tag them it. Those who are 'not it' put their phones in their hoods and run away from those who are 'it'.  When a phone becomes 'it', it will announce it loudly, at which point the user would pull it out of his hood and proceed to chase everyone else.

Team: Joe Scherping, Jack Wink



Tandem (Android)
Screenshot 1 Screenshot 2
We are using the bump api in order to gamify meeting new people.  Bump your phones together and get points together!  get points for all sorts of things, like being from different cities, having the same birthday, or any other awards, and badges!

Team: Andrew Rauh, Prashanth Sadasivan, Torehan Sharman



Zerg Rush (iOS)
Screenshot 1
Want to see if you're the next KT.Flash? Looking to improve your micro and prepare for the next MLG? Or are you iNcontroL and just wanna have fun? Check out "Zerg Rush", the game that will prepare you for none of these things! Inspired by the Google easter egg, this game will challenge the very skin of your fingertips while you battle the hordes of angry Cheerios that will (not) uninstall your iPhone apps. Tap the Apple logo in the top right for a brief reprieve from the intense action.

Team: Kaisen Chen, Yan Wang

Hackathon Photos
A photo album from the event is available here.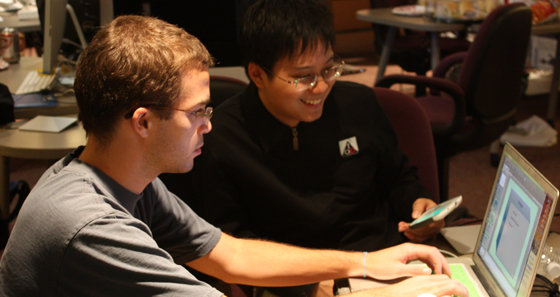 Last minute adjustments...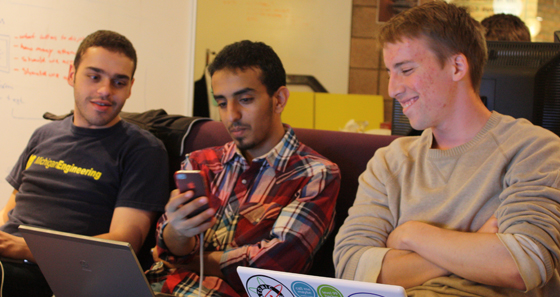 Lookin' good...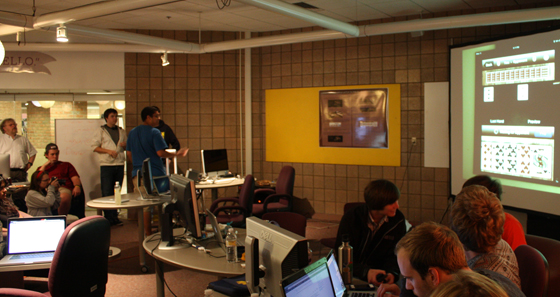 Students present their final projects.


Browse the archives from past U-M 48-Hour Mobile Apps Hackathons:
Winter 2009 Fall 2009 Fall 2010 Winter 2011 Fall 2011
---
Posted: October 15, 2012